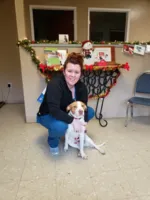 Bri - Technician
Bri started with us in May of 2017. She is excited to learn and expand her knowledge in the vet tech world. She graduated from University of Idaho in 2015 with a Bachelor of Science in Animal Science: Pre-Vet Option and a Bachelor of Science in Animal Science: Dairy Option. She is proud to be a Vandal and going to football games! She also enjoys her summers with her pups (Lady, Terra, and Rusty) out on the boat fishing and swimming.
Paige- Reception/Technician
Paige started in February of 2021. She is a bubble of personality and is great with pets and clients. She has a dog named Jinx that she loves to play with.
Andrea- Receptionist:
Amelia- Technician:
Jennifer- Receptionist:
Stephanie - Technician:
Stephanie started August 2015 when she moved back home to Grangeville. She is an animal lover and out doors woman! She loves to ride horses, fish and hunt. She has 2 dogs, Scout and Riley and a handful of horses!

Cassy- Office Manager:
Cassy came to us from the animal shelter in 2013 when Amber left us. Originally from Grangeville Cassy has worked with large and small animals for years and instantly fit in with our crew and clients! Cassy is a Corgi aficionado but also has an Australian Shepherd.
Pam- Technician:
Pam has been at Clarkston Vet since December 1989 when she moved to the valley from South Dakota. Pam bred and showed Chihuahuas for 12 years and showed Shar Pei dogs in obedience before that. Pam currently has a French Bulldog named Tater.

Candi- Groomer:
Candi was raised in Asotin, WA, and made her home in Arizona, Hawaii and Seattle, WA, before moving back to the valley to stay. She attended the Tarlara School of Dog Grooming and received her certification in 1990 just before coming to work at Clarkston Vet as our sole groomer. Over the years Candi bred and showed Giant Schnauzers, Papillions, Smooth Fox Terriers and Dobermans. She currently has 1 dog and 2 cats.
Shawn, Kennels
Shawn has been taking excellent care of the boarding patients since 2013! He has cats and dogs of his own and takes pride in providing the best care to all animals.